April 17, 2020
In Chicago, a local sheet metal manufacturer joins the battle against Wuhan virus
For leftists, blinded by Trump Derangement Syndrome, no matter the event, there's always just one headline: Orange Man Bad. However, for the rest of us, the Wuhan virus problem has been eye-opening.
It's revealed that Trump was correct to warn America and the rest of the world away from China. It's shown that many leftist shibboleths – e.g., the push for high-density housing and public transportation – are disease vectors during pandemics. It's also shown us that Americans are a remarkably decent people, eager to contribute everything they can during a crisis.
Richard Baehr, American Thinker's chief political correspondent, caught wind of a story out of Chicago about one business that remade itself to provide hospital beds for a military alternative care facility. It's a story worth telling here because, especially in times of crisis, we need to remember who we are as a people and as a nation.
Accurate Metal Fabricating ("AMF"), a subsidiary of Accurate Perforating, Inc., is a high-tech precision sheet metal manufacturer in Chicago's 36th ward. Under one name or another, it's been in business continuously since 1939, right before America's last great emergency, World War II.
When Jeff Kaminsky, AMF's National Sales Manager, heard that the military would be setting up an alternative care facility at Chicago's McCormick Place Convention Center, Kaminsky thought that AMF could help. He wasn't sure what AMF could do, so he got on the phone and started making calls.
"I called pretty much everyone I knew who might have connections either federal, state or local," he said. "I had no idea what we could do to help, so I just kept asking, over and over, what can we do?"
Eventually, Kaminsky decided to call the Army Corps of Engineers ("ACE"). An office manager was receptive to his call, and Kaminsky found himself talking to ACE's Commanding General.
Thanks to this conversation, in less than ten days AMF designed a "Rapid Deployment Emergency Medical Bed, worked out all the specifications, figured out its outsourcing needs (e.g., mattresses), lined up manpower, dealt with unions, and made a formal bid to both ACE and the City of Chicago.
The resulting bed was more sophisticated than what ACE was using, which was just a flat piece of steel on four legs. Kaminsky explained, "That didn't work for COVID patients, many of whom have pneumonia and require the ability to have their upper body lifted. We also built an IV stand into the bed, and added caster wheels." Not only was the bed geared to patients' needs, it could be assembled in less than five minutes.
By April 3, ACE had accepted AMF's bid from the five bids it received. By then, gambling that it would be the winning bid, AMF had already hired extra employees and retooled its factory so that it was able to hit the ground running.
"Everyone from our CFO to our Sales, Marketing, Engineering and Operations teams played key roles," said Aaron Kamins, Accurate Perforating's president. "Also, even the few parts and labor we outsourced, went to domestic sources. This is truly a 'Made in USA' product, with most of the labor performed right here in the City of Chicago, with Union labor. I was also impressed by the attitude of our employees and their Union, the Plastic Workers' Union Local 18. Everyone displayed a fantastic can-do attitude, under very difficult circumstances. But in the end, everyone from the top of the company down to the folks who cleaned and sanitized our facility, came through for us. I couldn't be more proud of everyone here."
So far, by working round the clock, AMF has been able to manufacture and deliver almost 2,000 beds to the alternative care facility at McCormick Place.
"In just ten days we went from being a custom metal fabricator with basically no experience making medical beds, to fabricating and delivering nearly 20 semi truckloads of beds and mattresses for the McCormick Place ACF to do our part responding to the COVID-19 crisis," explained a justifiably proud Kaminsky. "We even finished the project a full day and a half ahead of schedule. And now we're getting inquiries from all over the country, not just for medical beds, but also for partitions for hospital rooms and all kinds of other pandemic-related products. It's really a pretty amazing story."
The inquiries that AMF is receiving from around the country inspired it to add a new division that will enable it to sell these beds and other specialty items designed for treating patients with Wuhan Virus, to other facilities across America.
The AMF story isn't just a feel-good story about a manufacturer in Chicago. It also illustrates perfectly that, if the government gets out of the way, America's private sector is a powerful engine in good times and bad. It can respond with incredible speed to changing circumstances. Given that America needs to detach itself from the "Made in China" label, it's great to know that we've got the capacity to fill stores with quality goods "Made in America."
Photo gallery:
McCormick Place ACF staging of Accurate Rapid Deployment Medical Beds 4-11-2020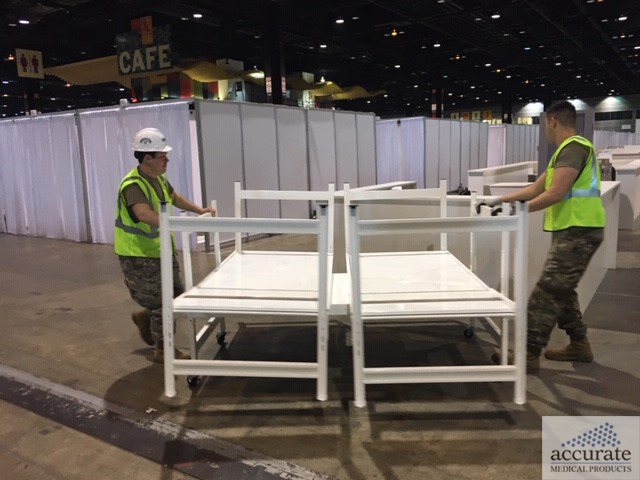 Illinois Air National Guard Delivers Accurate's Rapid Deployment Medical Beds to Patient Rooms at McCormick PL ACF 4-11-20
Hundreds of Accurate Rapid Deployment Medical Beds Staged at McCormick Place for patient rooms 4-11-2020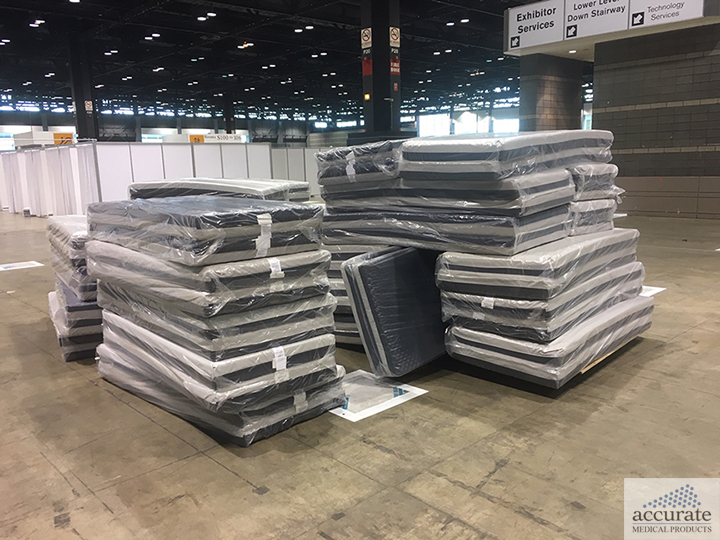 Dozens of Accurate's Medical Beds Staged at McCormick Place in Chicago for patient rooms 4-11-2020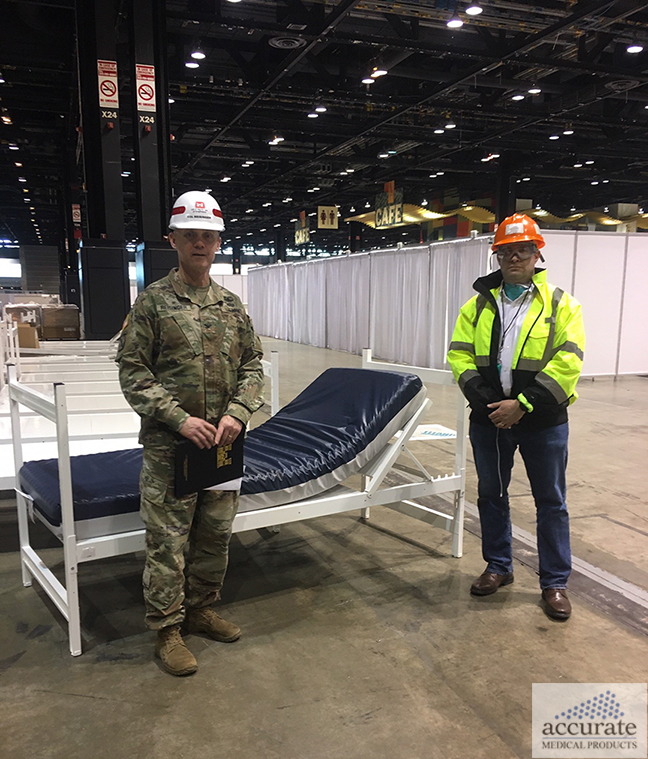 Colonel Aaron W. Reisinger, Chicago District Commander US Army Corps of Engineers and Jeff Kaminsky, Director Accurate Medical Products P2-4-10-2020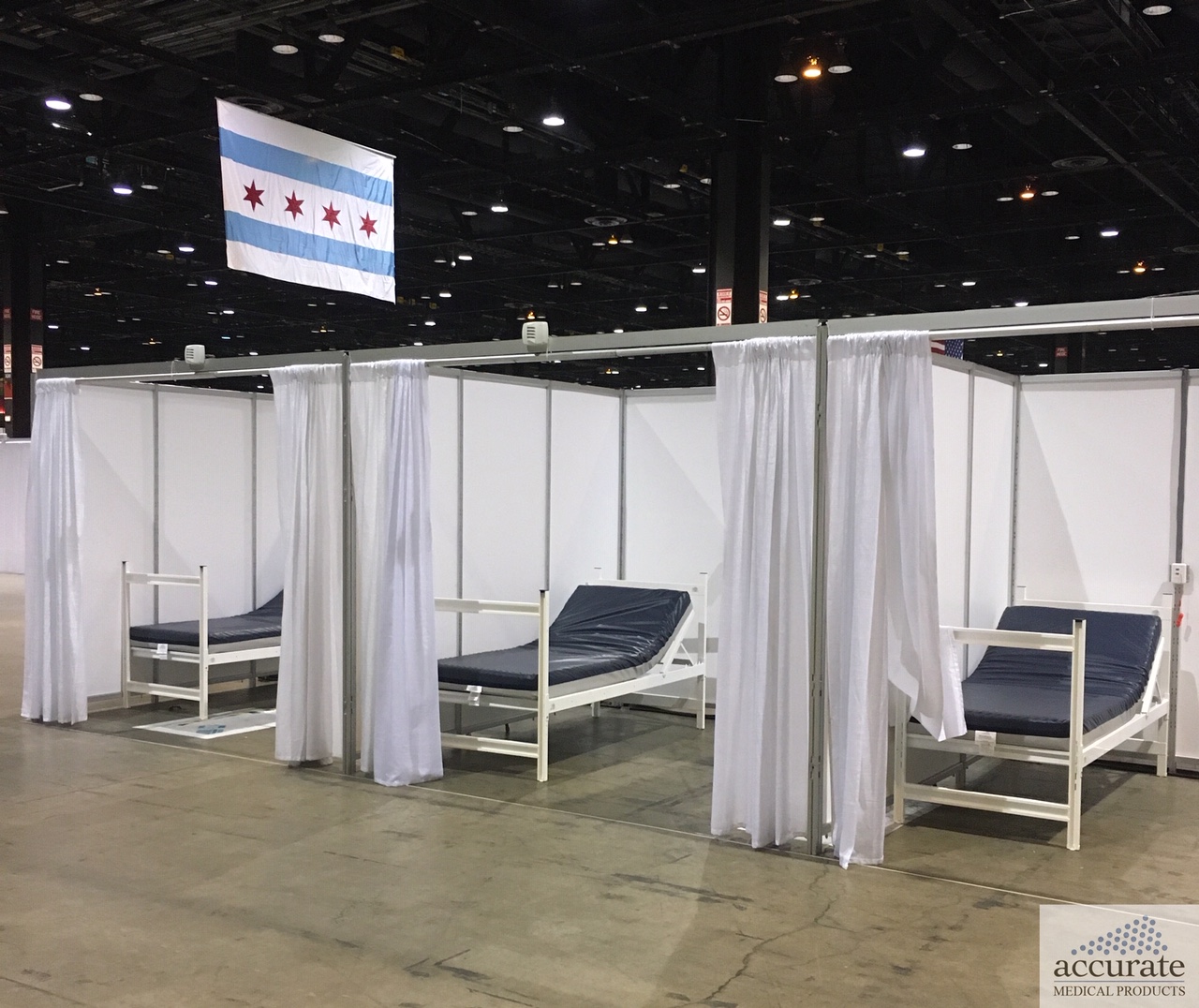 Accurate's Rapid Deployment Medical Bed Ready in Patient Rooms Under City of Chicago Flag at McCormick PL ACF 4-10-20
Members of Illinois Air National Guard after setting up Accurate's Rapid Deployment Medical Beds to Patient Rooms at McCormick PL ACF 4-11-20
If you experience technical problems, please write to helpdesk@americanthinker.com